SPRING 2023 TESTING
BEGINS MONDAY, MAY 1ST, 2023
Files

ACT / NCR
TUESDAY, APRIL 4TH, 2023
STUDENT TESTING LOCATIONS
Files
MIAMI-DADE COUNTY PUBLIC SCHOOLS
2022-2023 TESTING CALENDAR, GRADES PreK-12
ALGEBRA 1 EOC RETAKES
MONDAY, MARCH 6th, 2023
TUESDAY, MARCH 7th, 2023
Files
SAT SCHOOL DAY
WEDNESDAY, MARCH 1ST, 2023
ALL 11TH GRADE STUDENTS
SELECT 12TH GRADE STUDENTS
Files
FSA ELA RETAKES
TUESDAY (2/21/2023) - THURSDAY (2/23/2023)
FSA-ELA RETAKES - STUDENT TESTING LOCATIONS
Files
WIDA- Middle School Student Locations for Monday, February 13th, 2023.
Files
WIDA- High School Student Locations for Tuesday, February 14th, 2023.
Files
WIDA - ACCESS for ELLs
Between January 23, 2023, and March 17, 2023
ACCESS for ELLs measures students' progress in Listening, Speaking, Reading, and Writing English language skills
Files
iREADY & MID-YEAR ASSESSMENTS
iReady Reading (6-8): Begins on January 11th, 2023
iReady Math (6-8): Begins on January 18th, 2023
Algebra 1 and Geometry MYA: January 30th and 31st, 2023
Biology MYA: February 1st and 2nd, 2023
8th Science MYA: February 6th – February 9th, 2023
US History MYA: February 6th and 7th, 2023
7th Civics MYA: February 8th and 9th, 2023
FAST-PM2
ELA (Grades 6-10)
MATH (Grades 6-8)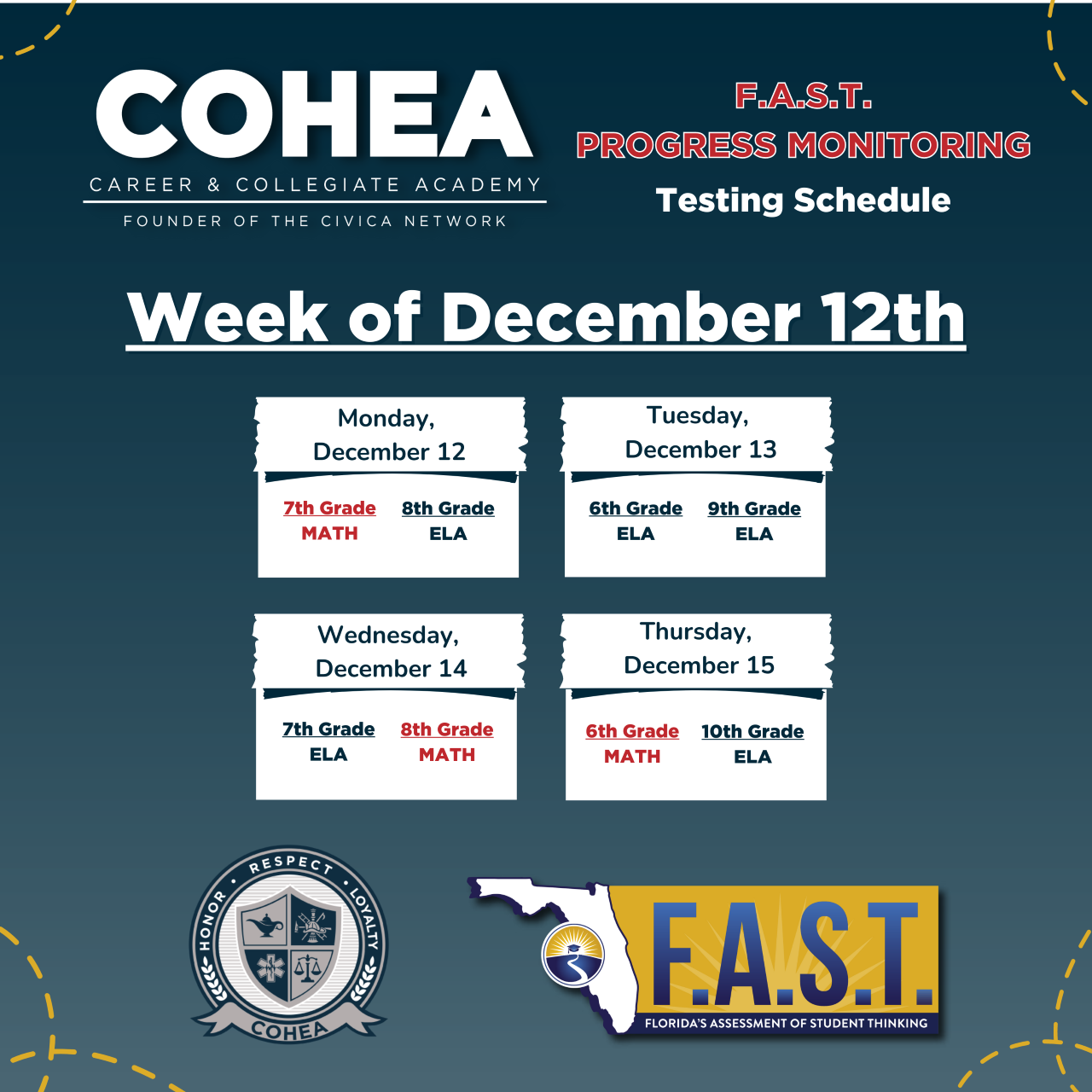 FAST-PM2
MONDAY, DECEMBER 12TH, 2022
7TH GRADE MATH
8TH GRADE READING
TUESDAY, DECEMBER 13TH, 2022
6TH GRADE READING
9TH GRADE READING
WEDNESDAY, DECEMBER 14TH, 2022
7TH GRADE READING
8TH GRADE MATH
THURSDAY, DECEMBER 15TH, 2022
6TH GRADE MATH
10TH GRADE READING
Files
Grade 12 - Florida Civics Literacy Exam (FCLE)
Wednesday, December 7, 2022
Seniors taking 12th Grade Government
The FCLE is a one Session, 160 minute exam. Please see the files attached below.
Files